Description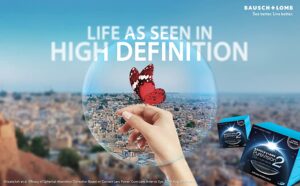 The Bausch & Lomb Purevision2 delivers a crisp and clear vision as it features a thin lens design made with innovative silicone hydrogel material for a natural feel whenever you put it on.
The contact lenses allow high levels of oxygen to reach your eyes, making them the perfect and healthy choice for you.
It has 36% water content for ultimate and extraordinary comfort. Since it is a monthly disposable pack, it can be cleaned, rinsed, and stored.
The thin contact lenses are made with Silicone Hydrogel material and designed with high definition optics that offers clear and crisp vision, reducing glare even in low light conditions.
Comfort Moist technology delivers outstanding comfort throughout the day, 36% water content, high levels of oxygen transmissibility for healthy eyes, thin lens design
These soft contact lenses can be cleaned, rinsed and disinfected by an eye care lens solution (Bausch & Lomb Bio true lens care) before storing.
Crisp and clear vision is what we aim for when searching for any type of vision correction.
But we often end up settling for something lesser, for lack of options.
Bausch + Lomb PureVision2 contact lenses come with High Definition Optics that help you see enhanced contrast, sharper details and reduced glare, even in low light conditions.
So, enjoy perfect vision as we make sure you see better, and hence, live better.
Bausch & Lomb purevision2  contact lenses feature HD Optics are designed to reduce halos and glare and deliver the clear, crisp vision that you should demand.
Plus, this monthly replacement lens offers design advances for outstanding comfort and breath-ability.